Create it REAL and Fusion3 are proud to announce "REACTOR", a slicing software based on the REALvision slicing core, specifically for Fusion3's professional customer base.
This partnership will bring REACTOR to Fusion3's existing customers. The North Carolina company had, in the past, provided  an off-the-shelf slicer to their customer base, but decided it was time to find another solution, that would provide more value.
"With this collaboration, we were able to better control our own destiny, and provide the slicing solution that our customers need right now. Fusion3 is focused on delivering affordable, high-performance 3D printers to our commercial and high-end education customers. The addition of REACTOR takes our printers' performance to even higher levels." says Chips Royce, CEO at Fusion3.

Both sides contributed within their own areas of expertise: "It was clear that Fusion3 cared extensively about the experience of their customers, and through the close collaboration we were able to synthesize that customer care into a great solution" Says Jeremie Pierre Gay, CEO at Create it REAL.
REACTOR Main Features
Customer experience is in Fusion3's DNA, and REACTOR comes packed with features to deliver this experience. The solution is based on Create it REAL's REALvision slicer engine. Have a look in the main features:
Material Profiles
One of the unique features is the integration with Fusion3's Certified Material List. It provides real-time, online material profile updates, for all the available materials certified to run on Fusion3 3D printers. This is an extensive list, with more than 140 certified entries, covering all possible combinations of printers, nozzles, and materials.
Material profiles is our solution developed for 3D printing manufacturers like Fusion3. Using it, customers can access presets for all certified filaments. This means more reliable printing with less guesswork and simpler customer support.
White Label Software
Create it REAL now provides a white-label slicing software, and REACTOR is the first example of this. It will allow 3D printing manufacturers like Fusion to provide a branded and customized slicing experience, built on Create it REAL's proprietary slicing engine.

Modifiers
Modifiers allow users to use the geometry of one object to define an area in 3D space that will use different settings for printing compared to the rest. They are applied to optimize the results of 3D printed objects for several industries. With it, companies are able to reduce the costs, weight and printing time of the 3D printed object while keeping the same design. Another use for modifiers is to change the layer resolution throughout the object. This means that some regions of the object can get finer quality by reducing the layer height, while printing fast with tall layers on other areas. Perfect for professional users like the ones from Fusion3! Have a look on how Modifiers work in REACTOR:
Planned Pause
Planned pause in your print process can be used to create a part that changes color after a certain layer, or has various objects embedded into it. This feature is great not only for aesthetics but to create objects that need something like a magnet or a nut inside. Planned Pause can be useful in manufacturing industries, as knowing when to stop gives you more control over the entire printing process.
Offline Activation & Printing
Being connected to the internet  is an unacceptable security risk for some companies. That's why we developed the possibility to install REACTOR software while being offline. This means REACTOR can run in highly secure offline environments. This feature is ideal for those individuals or companies who want to use 3D printing but deal with sensitive information on their computers, such as those in government agencies or the defense sector.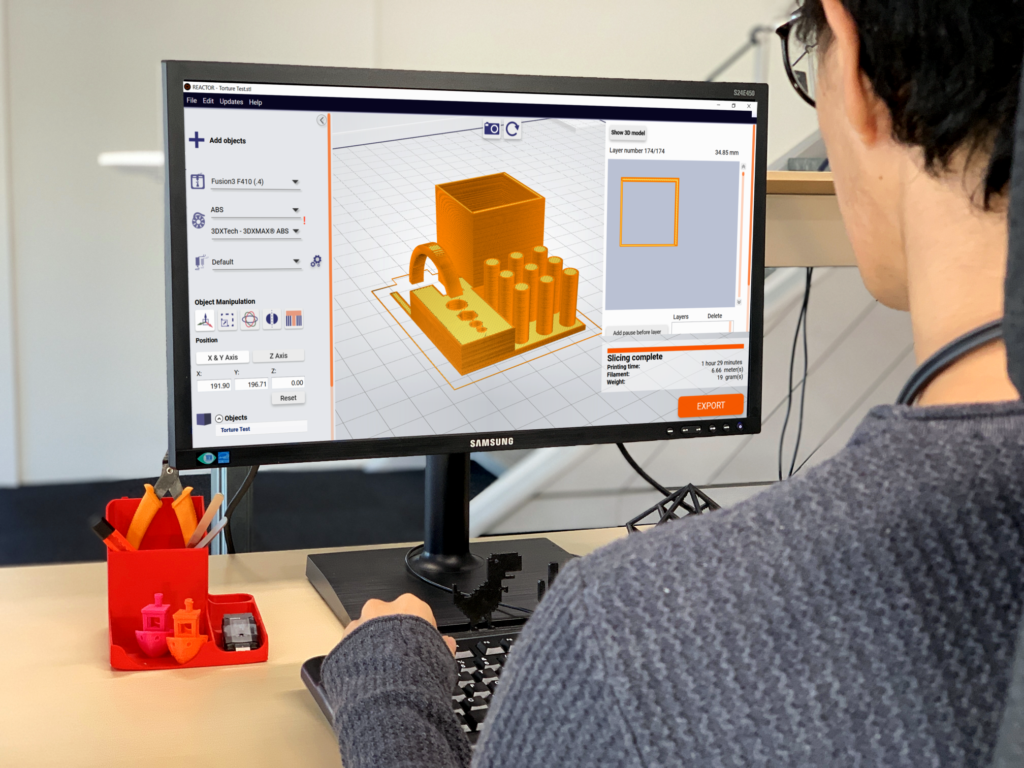 REACTOR is now available to Fusion3 customers, bundled with the company's F410 3D printer when purchased new, and for purchase through the company's online 'Replacement Parts Store'. Fusion3 is offering a free copy as an upgrade to each of its existing customers (certain limitations apply, please contact the company for details).
Create it REAL has been helping 3D printer manufacturers differentiate themselves from the competition for 11 years. If you are on the outlook for custom features for your slicer software, don't hesitate to contact us for a discussion or free quote.
ABOUT CREATE IT REAL
Danish Create it REAL enable industries to realize a true manufacturing revolution. With slicing software and control technology, Create it REAL works with companies who want to introduce 3D printing as part of their business, as well as 3D printer manufacturers who want to push their technology to the next level. To learn more about Create it REAL, visit https://www.createitreal.com.
ABOUT FUSION3
Fusion3 designs and manufactures affordable, high-performance 3D printers for business and education. Fusion3's professional 3D printers provide best-in-class speed, print quality, and durability at a fraction of the cost of commercial/industrial 3D printers on the market today. The company manufactures its 3D printers at its United States factory, offers the best standard warranty in 3D printing, and provides commercial-grade service and support to keep our customers up and running. To learn more about Fusion3, visit https://www.fusion3design.com.
Want to get the most out of your 3D printer?
Get in touch today to see how Create it REAL's technology can benefit you.
[vc_btn title="Contact Us Now" style="flat" color="sandy-brown" align="left" el_class="cir-accent" link="url:https%3A%2F%2Fwww.createitreal.com%2Fcontact%2F||target:%20_blank|"]