Bring your insole expertise into the digital age and manufacture in-house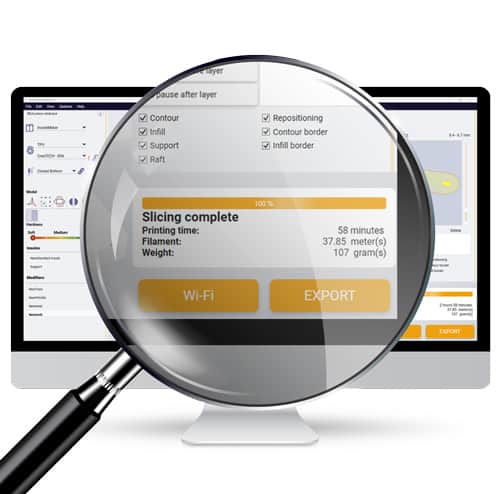 Slice your object for precise printing time and accurate filament estimation
Our REALvision Embrace CAM software empowers you to utilize features such as 'automatic support generation,' the option for an 'open or closed bottom,' a lattice structure for 'pressure relief,' and the ability to select from predefined quality settings.
With REALvision Embrace CAM software, you can also:
Integrate customized gradient zones to adjust hardness/softness
Preview the print before finalizing
Streamline the 3D printing process within a unified workflow.
Integrated with your CAD system and start a print farm
Do you already have an existing production setup? We can integrate pressure mapping and CAD design seamlessly. Upgrade to mass production without missing the advantages of a simple and sustainable solution.
Integration into your CAD software makes it possible to prepare the print and add the insole to the print management system in one go, using a cloud-based version of the REALvision software engine.
With several printers connected, you can have a central print farm or manage several printers in local store locations, creating a decentralized print farm
With the Embrace Insole solution, you can 3D print custom insoles in thermoplastic polyurethane (TPU) filament. In the solution, we use a unique and patented feature to print soft and hard zones with smooth graduation between the different zones, so it feels pleasant without sharp transitions in the final product.
The flow for manufacturing the insole is as follows:
Digitalization of the individual feet using a 3D scanner device plus optional pressure mapping
Designing the insoles and making customized corrections for optimal treatment and corrections using a CAD design tool
Preparation of manufacturing in CAM software
3D Printing the insoles
Try before you buy: Orthotics & prosthetics print service
Try Programmable Foam®: use the orthotics & prosthetics print service. We use your design and requirements.
Test our capabilities: order a free sample