CUBIX - 3D printed insoles
Next-generation insoles with circular economy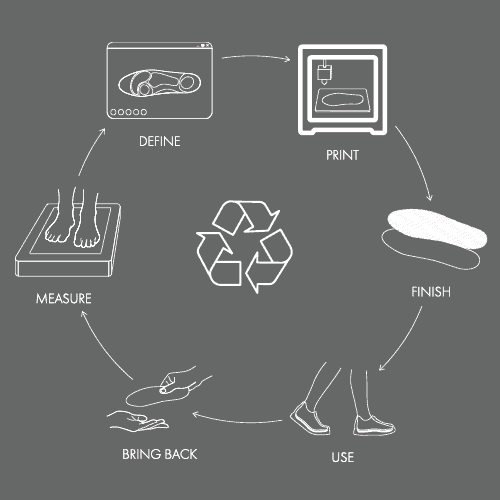 Customized printing of insoles
Individually customized insoles that fulfill the requirements of persons with serious foot problems require expertise and in-depth knowledge to produce.
Traditionally, the production process involves manual work and a high percentage of wasted material. Our solution for 3D printing insoles comprises an effortless operation using 100% recyclable filaments.
Our partner Marcel Domenghino, CEO of GeBioM says:
"Together with Create it REAL we can offer an integrated process from scan to printed insole. Reducing manual work and the need for technical know-how. "​
Decentralized Production
The 3D printing solution is made for decentralized production. It is intuitive and easy for the staff in the workshop to operate without being an expert in 3D printing.
The CUBIX solution made with GeBioM is well-proven, with over 100 printers installed in orthopedic workshops across Europe.
Reach your goals with 3D printing
We are your facilitator to unlock the benefits of 3D printing with soft, elastic, and flexible materials.
With a customized printing strategy, we help you leverage your products.
The advantages include the following:
Superior prints of medical-grade customized devices
Saving time in the production process
Skipping the molds and excessive waste
Want to learn more about the CUBIX solution?
Please feel free to reach out to our business developer Lene Jensen
Ready for the next step?​
Additive manufacturing is still young, but more and more businesses become aware that traditional production methods need alternatives. As a business partner, we help you create the right setup for your 3D printing program. We can start with a consultation or you can order a free sample and we take it from there.